---
Spring Matrix 2017 with Marco Ambriz Resources:
Leading through Times of Change & Transition – Marko Ambriz – PDF
Shaping our Ministry Culture – Marko Ambriz  – PDF
What I am Learning about Multicultural Church Leadership – Marko Ambriz  – PDF
Designing Missional Structures for the Church – Marko Ambriz  – PDF
Crescendo – Debbie Blue and Evelyn Johnson  – PDF
Strategies for helping young people discover and love your church – Erik Cave  – PDF
Difficult Conversations – Peter Sung – PDF
---
Spring 2017
March 4th
Kent Covenant Church
Leadership Matrix is designed for pastors to come with their church staff and leadership teams. We provide topics and seminars with an emphasis on both congregational life and leadership development, and on outreach and community/global ministry. We have planned a range of workshops in ministry focus areas of leadership, congregational vitality, and outreach ministries.
We use the word "matrix" in Leadership Matrix for its definition as being "from which something else originates, develops, or takes form". In that sense, the topics and seminars/workshops are meant to be catalytic—our speakers and workshop/seminar leaders present topics that a church leader or team can take back and develop to implement in their own church and ministry setting.
Keynote Speaker: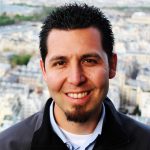 Marco Ambriz serves as Lead Pastor at First Covenant Church in Oakland, California. He has served on the pastoral staff at FCC Oakland since 2004. He and his wife Nicole, along with their 2 young children love calling Oakland their home. Marco grew up as a pastor's kid, worship leader and preacher in the Latino Pentecostal church in Texas. He later served as a Pastor at a Korean Presbyterian church for several years before joining FCC Oakland. In his spare time, he enjoys time with his family, basketball, reading, roasting his own coffee in his backyard and losing at nerdy board games.  Marco has a B.A. in Pastoral Studies from Patten University – Oakland, CA, an M.Div from Fuller Theological Seminary and is Ordained to Word and Sacrament in the Evangelical Covenant Church.
Registration:
$35/person or $30/person for a group of 4 or more people from one congregation registering together.
Registration Deadline: February 24th.
[Click Here] to Register Online
[Click Here] to Download the Flyer and Mail in Registration Form.
Schedule:
9:00am Reg. and coffee
9:30 Worship and Plenary Session 1
Leading through Times of Change and Transition
We all know that ministry doesn't exist in a vacuum. It exists in real time and in a constant state of flux. But sometimes, our ministries are placed in significant modes of transition and change. It is here that the skills necessary to lead in those seasons become very specific. We will consider practical leadership mindsets and actions that can help us to be faithful to God and our churches in times of change and transition.
Questions include: How do I lead my ministry through a change they don't see necessary? How do I lead my ministry through a change we didn't expect? How do I remain faithful to my call in the midst of ministry change? How is God changing me through leadership seasons?
10:45 AM Workshops
12pm Lunch and Fellowship
1:00 PM Workshops
2:45 Plenary Session 2
Shaping our Ministry Culture
Culture is more impacting and long lasting than we know. From any range of ministries in our churches it is up to pastors and leaders to keep shaping the culture of our ministry teams, goals and behaviors so that we are proactive in our mission and not always reactive. This involves some practical steps and commitments to the culture that we want to shape for our ministries.
Questions include: What do we want to see different in our ministry culture? What are the bright spots in our ministry culture? Who are the people that can help us to shape a healthy ministry culture? 
4:00 Depart
Conference Location:
Kent Covenant Church
12010 SE 240th St Kent, WA 98031
(253) 631-0222
kentcov.org
Workshops
What I am Learning about Multicultural Church Leadership with guest speaker Marco Ambriz.
Marco grew up witnessing a variety of cross-cultural expressions of the Kingdom of God. These experiences ranged from growing up as a 4th generation Latino Pentecostal pastor's kid to a 1st time Pastor of English Ministries at a Korean Presbyterian church and now as Lead Pastor of a Multi-Ethnic Covenant Church in Oakland which ministers to a variety of races, ethnicities and culturesincluding Cambodian refugee families. Lessons learned about multicultural leadership include: Intentionality, structures, diversity, group dynamics, advocacy, worship styles, transformational dialogue, forgiveness, lament. Marco is Lead Pastor of First Covenant Church in Oakland, CA.
Strategies for Helping Young People Discover and Love Your Church with Erik Cave.
The alarming reality is that young people are leaving our churches. There is hope to turn this around. This seminar will look at the strategies offered in the book "Growing Young" in order to help your church engage millennials. Here is a hint: it isn't about the music you play, the clothes you wear or the coffee you serve. We will use teaching, discussion, video and evaluation to begin the process of transformation in your community. Erik serves on the Pacific Northwest Conference staff as the Communication and Family Ministries Coordinator.
How to Lead Difficult Conversations Your Church Needs to Have with Peter Sung.
All leaders must regularly, as a matter of course, engage in difficult conversations. We have found that the very best of these conversations happen when people stand shoulder to shoulder, looking at the problem together. Do you know how to get there? And then from there, create action and accountability? How do difficult conversations tend to go for you? "Power is revealed, not in striking hard and often, but in striking true." Peter is Lead Pastor at Evergreen Church in Mercer Island, WA.
Crescendo: Revisioning Older Adult Ministries with Evelyn Johnson and Debbie Blue.
Explore challenges, opportunities and practical ideas to engage an existing older adult population and the emerging "new old" (the boomer birth cohort) in vital living to advance Christ's mission. Evelyn has served in various Covenant ministry roles and is now on the team guiding CRESCENDO, a project of Make and Deepen Disciples, ECC. Debbie, a native Chicagoan, found great joy in serving in various ECC ministries and now as member of the CRESCENDO team.
Evangelism that Works with David Greenidge.
Come discover some ways to connect to your community with the gospel. We also will talk about getting our churches more excited about how we do evangelism. David Greenidge is pastor of Tigard Covenant Church in Tigard, OR.
Faith and Race in Youth Ministry with PNW Youth Ministry Network Racial Reconciliation Cohort.
This cohort of youth and family ministry pastors will offer tools for pastors and leaders in guiding conversations and experiences connecting race and faith. Originally prepared for our PNW Youth Ministry Network Retreat, this seminar will be helpful for ministry to all ages and contexts.
Walking in the Light: Lessons from the Trail with Dawn Taloyo.
As followers of Christ, and all the more as spiritual leaders, we are called to live lives of authenticity and godly character, shining as lights in this world. But, the challenges are many. Loneliness and stress can lead to burnout or poor choices. We all need health-full connections to keep walking the straight and narrow path. Join me as we look again at scripture and healthy rhythms for remaining on the path of light and life. Dawn serves on the Pacific Northwest Conference staff as the Director of Pastoral and Congregational Health.
Diseñando Estructuras Misionales Para La Iglesia Parte 2 / Designing Missional Structures for the Church Part 2 with Keith Tungseth.
Esta sesión continuará la enseñanza de Efesios 4:11 y considerará los perfiles de los participantes y sus comunidades de misión, ya que incluyen apóstoles, profetas, evangelistas, pastores y maestros. / This session will continue the teaching from Ephesians 4:11 and consider the profiles of the
participants and their mission communities as they include apostles, prophets, evangelists, pastors and teachers. Keith serves on the Pacific Northwest Conference staff as Hispanic/Latino Ministries Coordinator.
Additional Options:
Saturday Lunch Roundtable Discussion
"Help! I am a Church Chair/Leader" with Don Robinson
This is for church chairs and leaders to have a "roundtable" conversation around the unique and special roles and responsibilities of a church leader. The conversation will center around two questions, "What are you learning as a church leader that you can share with others?" And, "Name a specific challenge that you are facing that you could use some advise from another church leader?" Don is the Associate Superintendent for the Pacific Northwest Conference.
Pre-Leadership Matrix dinner and session with Marco Ambriz
Friday, March 3rd
@ Kent Covenant Church, 6:30pm.
Designing Missional Structures for the Church / Diseñando Estructuras Misionales Para La Iglesia
Based on Ephesians 4:11, Marco will outline a missional model and tell his own story from both his Hispanic church involvement and his role today as lead pastor of First Covenant Church in Oakland. Marco and Keith Tungseth will facilitate a bi-lingual dialogue with church planters and
leaders (including the Covenant Orientation Hispanic Cohort) on missional structures that