2016 Sharing The Harvest
October 29, 2016 @ 11:00 am

-

2:30 pm
Event Navigation

Sharing The Harvest 2016
Does your church want to take a bite out of global hunger and malnutrition and enjoy some tasty Yakima Valley Apples? Sharing the Harvest is one way your church can do just that.  This will be the fifth year that Pacific Northwest Conference Churches will be raising funds for a research and training farm in the Central African Republic that is supported by Covenant World Relief and Covenant World Mission.
Participating

churches hold a pre-sale of apples, priced at $10 for 10 lbs. 100% of the funds raised goes to the farm. Churches are also invited on Saturday, October 29th to the Sharing the Harvest packing day, a family friendly mission venture as we bag apples, enjoy lunch, press cider, and much more. We need to hear from your church by July 15th if you would like to participate.  We have room for just 10 more churches.  We will get you everything that you will need for the sale by the first week of September.
If you have any questions, don't hesitate to contact us at fruit@sharing-the-harvest or call us at Wiley Heights Covenant at (509) 966-2383. Keep Sharing!
Sharing the Harvest is a mission venture of the churches of the Pacific Northwest Conference (ECC), facilitated byWiley Heights Covenant Church, in support of projects through Covenant World Relief / Food Resource Bank. We work to demonstrate God's love through sharing the harvest.
In 2015, Sharing the Harvest partnered with 22 churches, raising a total of $17,458.  Of that total $15,381.90 will go to help farmers in the Central African Republic.  This is the equivalent of planting This is enough to plant 3,076 tress in the Central African Republic.  The other $2076.10 was given as "seed money" to start more projects like Sharing the Harvest.
How to Get Involved:
Sell apples in your congregation.  Each 10lb bag of apples costs only $10.  Orders are due by September 30th
Packing Day.  Join other Covenanters from the PacNWC in Yakima Washington to pack apples on October 29th from 11 AM to 2 PM.  It is a great day of service and fellowship.
[Click Here] to sign up to participate.
For more information [Click Here] to visit the Sharing the Harvest website.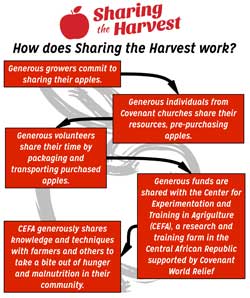 In this small village in the Central African Republic (CAR) a co-op of farmers told us they desired to work with CEFA, a research and training farm, because they wanted to "finish hunger" in their village. They showed us the work they had done, these 17 people to plant beans, peanuts, squash, cow-peas, cassava, palm trees, and malay apples. They were doing the work, empowered with tools, seed, training, and encouragement, but the labor and the fruits of their labor were theirs. Perhaps that's why the farmers choose the name for their co-op of "I now know."
I traveled with Covenant World Relief the first week of July to visit CEFA in the CAR and hear the stories and see the efforts made to make significant difference in facing hunger and malnutrition in one of the poorest nations in the world that is also coming out of a lingering and brutal civil war. Together through Sharing the Harvest, Pacific Northwest Churches have been supporting the work of CEFA, and as a result we are helping equip people to finish hunger in their communities.
We encourage your church to participate in Sharing the Harvest in the fall of 2016. Find out everything you need to know at www.sharing-the-harvest.com or contact us at fruit@sharing-the-harvest.com. If your church is ready to participate fill out this simple Google Form. Keep Sharing!