The Bright Scholars Project
By Pastor Derek Hwang, Lead Pastor, Disciple Community Church
It's amazing the open doors God can provide when you place yourself available to God's call in the Great Commission. My name is Derek Hwang and I'm the lead pastor of Disciple Community church. Six years ago, God called my wife and I along with 12 core members to plant a church called Disciple Community Church. That year, we partnered with the ECC and have together strived to live out God's call for this church plant in Bellevue, Wa. Five years ago, our church was given the opportunity to see what God was doing in the lives of people in Phnom Penh, Cambodia. We went on a Vision trip with a missionary who has spent almost his entire life doing God's work in Cambodia and Vietnam. He introduced us to a ministry in Phnom Penh called Bright Scholars. Bright Scholars is a ministry led by two local Cambodian women named Kim and Sina. They are a non-government-organization that desires to serve the poor. For the last 8 years, they have been finding financial donors to support local children who have parents with HIV/Aids. Most of the children's parents have already passed away. In Cambodia, people with HIV/Aids are shunned. They are outcasts of the society. No one will do business with them. In many cases, families will no longer associate themselves with those who have HIV/Aids. So, for these families who have HIV/Aids in their homes, they live condemned, separated lives in poverty. They live in extreme difficult conditions where a family earning a total of $1-$3 per day is not out of the ordinary. Almost every family lives in make-shift shacks built over sewage. Most if not all of these families are malnourished and do not have finances to seek medical help. The children do not have the finances to get an education. These families are the bottom 5% of the poor living in Phnom Penh. Ultimately, these children grow up without any hope of a future. For $350 per year, less than $1 a day, we can sponsor a child through Bright Scholars and send them to school. This donation will support the students with a full year of education along with some school materials.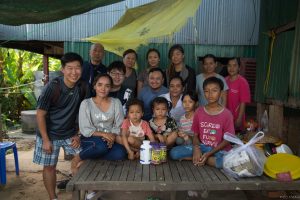 Currently there are about 65 students who are sponsored through Bright Scholars. Disciple Community Church, along with three other churches, have committed to sponsor these children and give them what they are most lacking, hope. In the last 5 years, we have not only supported students financially, we have taken trips every year trying to build relationships with the students and their families. Every year, we have taken teams to share the testimony of Jesus Christ along with needed school materials. We have taken about 20 laptops teaching students how to use the computer so that they do not fall behind in school. Over the 5 years, we have done over 50 home visitations trying to understand what their families go through and to build relationships with them. We have spent time praying for them, crying with them, and rejoicing God's work in them. What we have been so encouraged by is what Kim and Sina have been sharing with these families going through such a difficult time. "When your own people do not love you or accept you, these Christian's half way around the world want you to know that they love you and accept you. Have hope!" The great thing about Bright Scholars is that we can meet the students and share a meal with them in their homes and build relationships with them. Our relationship goes beyond the picture we put up on our refrigerator. We can meet them face to face and give them a loving embrace.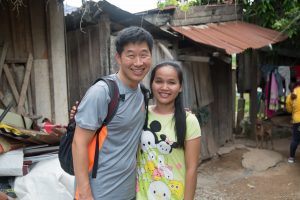 Recently, we have found out that Bright Scholar's funding has run out. Their support churches have found it difficult to continue supporting the finances of their work. Because of that, God has opened doors and given Disciple Community Church an opportunity to step in and run operations for Bright Scholars. We are excited at the possibility of continuing to support the children of Bright Scholars and further their work to meet the needs of so many more students in desperate need in Phnom Penh. We want to build Bright Scholars to be a ministry that, not only supports the financial means for hurting children to have an education and a future in this world, but build relationships and share Jesus with them so that they can see and experience the grace, hope, and love of Jesus Christ and have an eternal future in God's Kingdom. Please pray for our partnership with Kim and Sina and Bright Scholars and the work of the whole mission of the church in Phnom Penh.  If you would like to know more about Bright Scholars and get involved in sponsoring the Bright Scholars project or sponsoring students through Bright Scholars, you can always go to links below.
https://bright-scholars-45.webself.net/home
https://www.facebook.com/Bright-Scholars-1466457283662239/
"The point is this: whoever sows sparingly will also reap sparingly, and whoever sows bountifully will also reap bountifully. Each one must give as he has decided in his heart, not reluctantly or under compulsion, for God loves a cheerful giver. And God is able to make all grace abound to you, so that having all sufficiency in all things at all times, you may abound in every good work." 2 Corinthians 9:6-8 (ESV)
May the Peace of Jesus Christ flow through you!
Pastor Derek Hwang
Disciple Community Church
Derekhwang@disciple-cc.org