PacNWC Vision:
A mosaic of churches working interdependently together to transform lives and communities.
PacNWC Mission Priorities:
Start Churches | Strengthen Churches | Support Pastors
Superintendent's Report
By Greg Yee, PacNWC Superintendent
English
Welcome t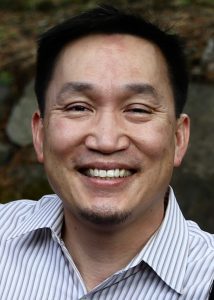 o our 127th annual meeting!  It Starts Here - Nuestra Misión Comienza Aquí is our theme.  As we focus on our Serve Globally mission priority and welcome our executive minister the Rev. Dr. Al Tizon to speak to us, our focus is simply this: Our heart for missions goes to the ends of the earth, but it is profoundly shaped by our heart for what happens right here.  We look forward to how God will inspire us as Mission Friends. 
As we take time to reflect on the significant challenges, wonderful opportunities, and amazing fruit of this past year, I know we come together to be encouraged and inspired.  Everyday I am aware of the beautiful gift God gives us in each other - our history and evolving story; our diverse shared mission; and our friendship.  I am spurred on by your commitment to Christ.  I am moved by the vision and mission of your local church.  There is confirmation of our regional focus to be a mosaic of churches working interdependently together to transform lives and communities.   
But as quickly as I say that, I don't want to glance over the fact that it has been a particularly challenging year in our country and in our churches.  We experienced intense polarization fueling division and discouragement among us.  The frustration and tiredness I heard from many of you was difficult.  I felt the pain of our narrow-mindedness and impatience. I felt the weight of us leading well.    
 May God continue to push us.  We need to be pushed.  I feel the immediacy of Paul's spirit when talking to the diverse Philippians church plant: Therefore if you have any encouragement from being united with Christ, if any comfort from his love, if any common sharing in the Spirit, if any tenderness and compassion, then make my joy complete by being like-minded, having the same love, being one in spirit and of one mind. Do nothing out of selfish ambition or vain conceit. Rather, in humility value others above yourselves, not looking to your own interests but each of you to the interests of the others (Phil 2:1-4).  Too much is at stake in the gospel work for us to be chained down by disunity and discord.  Church, we must be better and not settle for a twisted version of who we are as the church.  We need to lean into difficult conversations and be committed to being more deliberate learners and more intent listeners.  May Christ be glorified in our struggle and in our resolve for unity.  May we be encouraged and comforted to seize this moment as we grow into like-mindedness, united love and oneness in mind and spirit.  Lead Church! 
 Amidst these challenges, God continued to stretch and grow us within our ministry priorities.  Here are highlights from this year: 
Starting New Churches: 
Supported and resourced our 12 church plants 
Exploring adoption with 6 churches 
Three churches moving into membership: Renew (Seattle), Immanuel (Spokane), and Radiant (Renton) 
Contracted with Russ Blake, Mark Meredith, and Peter Sung for coaching with ministry development, evangelism, strategic planning, and leadership.   
Strengthening Church: 
Coached 14 churches along the Vitality Pathway. One of Don Robinson's main role is our director of church vitality.   
28 churches and Covenant Shores joined the Covenant Community Bible Experience representing at least 3700 people - 24% of the entire conference!   
Piloted an evangelism cohort with 13 lead pastors.  We recognize the high correlation of lead pastor passion/involvement and higher evangelism temperature in churches.   
Had record numbers of middle and high schoolers at Thunder and MUD and we are piloting a new young adults retreat this May.  Erik Cave now brings greater attention and coordination for children, youth, young adult ministries and families.  Also, both men's and women's retreats were an immense blessing.  Cascades Camp had another wonderfully fruitful year.   
Grew Hispanic ministries through the leadership of Keith Tungseth with a pilot local Covenant Orientation program, assisting churches in exploring Hispanic ministries/partnerships, and supporting new ministry initiatives.   
Hosted The Leadership Matrix and a special training around church finances and conflict resolution (Peter Steinke).  Had a full bus for Journey to Mosaic, our mobile racial reconciliation workshop.  It proved to be a timely experience the weekend after the election. 
Supporting Pastors: 
Credentialed 11 ministers and are moving forward with ordaining 10 pastors this June in Detroit.  We are grateful for those who serve on the Committee on Ministerial Standing (COMS) and celebrate the culmination of the ordinands' journey. Cris Back continues to keep our process organized well.   
Worked with eight lead pastor transitions.  We have been extremely pleased with the quality and passion of the new pastors that God has brought to the PacNWC.  These interim/pastoral search seasons continue to be wonderful opportunities to work with churches. 
The Ministerial Association led with excellence this past year with continuing education around the topic of human sexuality. And, they continue to organize the best pastors' retreat in all of the Covenant.    
We continue to see an increase in the practice of good self-care (elective counseling, spiritual direction, etc).  We hired Dawn Taloyo to bring greater leadership around congregational and pastoral health.   
 As I complete my first term, I am filled with joy and deep gratitude for these past four years.  I am grateful for the opportunity to serve you.  I am grateful for God's work among and through us.  I am grateful for the conference team.  They are beautiful, gifted people.  But I would be remiss if I didn't take this moment to publicly thank my wife Mary and my children Jordan, Erin, and Caden.  They have been a tremendous source of joy and support. Mary has lovingly and selflessly served the conference well by being the bedrock of our family and being such a dependable ministry and life partner.   
Thank you churches.  Let's pray fervently for great faith, bold spirits, and overflowing fruit.  Thank you for a great year and for your faithful partnership.  I look forward with great eagerness and anticipation for where God will lead us next.  God bless you! 
Español
¡Bienvenidos a nuestra 127ª  reunión anual!  Nuestro tema es Nuestra Misión Comienza Aquí. Mientras nos enfocamos en nuestra prioridad de misión por medio de Servir Globalmente y damos la bienvenida a nuestro Ministro Ejecutivo, el Reverendo Dr. Al Tizon para hablar con nosotros, nuestro enfoque simplemente es: Nuestro corazón para misiones va hasta los fines de la tierra, pero es profundamente formada por nuestro corazón hacia lo que sucede aquí.  Esperamos con anticipación cómo Dios nos inspirará ya que somos Amigos de la Misión.
Al tomar tiempo para reflexionar sobre los retos significativos, las oportunidades maravillosas, y el asombroso fruto de este año pasado, sé que nos reunimos para ser inspirados y alentados. Cada día me doy cuenta del hermoso regalo de Dios que tenemos el uno en el otro - nuestro pasado y nuestro presente que se desarrolla; nuestra variada misión compartida; y nuestra amistad. Me impulsa hacia adelante el ver su compromiso con Cristo. Me conmueve ver la visión y misión de su iglesia local. Hay confirmación de nuestro enfoque regional de ser un mosaico de iglesias que trabajan interdependientemente juntos para transformar vidas y comunidades. 
Pero al mismo momento que digo esto, no quiero ignorar el hecho de que ha sido un año especialmente difícil en nuestro país y en nuestras iglesias. Experimentamos intensa polarización alimentando la división y desánimo entre nosotros. La frustración y el cansancio que oí de muchos de ustedes fue difícil. Sentí el dolor de nuestra estrechez de mente e impaciencia. Sentí el peso de nuestro deber de guiar bien. 
Que Dios nos siga empujando. Necesitamos ser empujados. Siento la urgencia del espíritu de Pablo al hablar a la iglesia diversa en plantación de los Filipenses: Por tanto, si sienten algún estímulo en su unión con Cristo, algún consuelo en su amor, algún compañerismo en el Espíritu, algún afecto entrañable, llénenme de alegría teniendo un mismo parecer, un mismo amor, unidos en alma y pensamiento.  No hagan nada por egoísmo o vanidad; más bien, con humildad consideren a los demás como superiores a ustedes mismos. Cada uno debe velar no solo por sus propios intereses, sino también por los intereses de los demás. (Fil.2:1 - 4)
Demasiado esta en juego en la obra del Evangelio para que estemos encadenados por la desunión y la discordia. Iglesia, debemos ser mejores y no conformarnos con una versión distorsionada de lo que somos como iglesia. Se trata de voltear hacia las conversaciones difíciles y comprometernos a ser estudiantes intencionales y no solo oyentes. Que Cristo sea glorificado en nuestra lucha y nuestra resolución por la unidad. Que seamos animados y consolados al aprovechar este momento, mientras crecemos en unidad de pensamiento, en amor unido y en ser de una sola mente y de un solo espíritu. Iglesia, guíe!
En medio de estos desafíos, Dios nos continuó a estirar y crecer dentro de nuestras prioridades de ministerio. Aquí están los puntos más destacados de este año: 
Plantación de Nuevas Iglesias:
 Respaldo y recursos para nuestras 12 iglesias en plantación
Exploración de adopción de 6 iglesias
Tres iglesias progresando hacia membresía: Renew (Seattle), Immanuel (Spokane) y Radiant (Renton)
Contratos con Russ Blake, Mark Meredith y Peter Sung para entrenamiento de  desarrollo de ministerio, evangelismo, planificación estratégica, y liderazgo. 
Fortalecimiento de la Iglesia: 
Entrenamiento a 14 iglesias usando Vía de Vitalidad (Vitality Pathway). Uno de los papeles principales de Don Robinson es ser nuestro director de Vitalidad de Iglesias.
28 iglesias y Covenant Shores se unieron al programa Experiencia Bíblica en Comunidad del Pacto representando al menos 3700 personas - 24% de toda la Conferencia!
Prueba inicial con 13 pastores líderes sobre evangelismo. Reconocemos la alta correlación del pastor como líder en pasión y compromiso de evangelizar y una medida mas alta de interés de evangelismo en las iglesias.
Record en asistencia de estudiantes de secundaria y de preparatoria en Thunder y MUD y estamos iniciando un retiro nuevo de jóvenes adultos este mes de mayo. Erik Cave ahora trae mayor atención y coordinación para niños, jóvenes, ministerios de adultos jóvenes y familias. También, ambos retiros de hombres y mujeres fueron de una bendición inmensa. Cascades Camp tuvo otro año maravillosamente fructífero.
Crecimiento de ministerios hispanos a través del liderazgo de Keith Tungseth con un programa piloto local de orientación al Pacto, ayuda a iglesias en exploración de ministerios/alianzas hispanos y apoyo a nuevas iniciativas de ministerio.
Anfitriones de Matriz de Liderazgo (The Leadership Matrix)  y un entrenamiento especial acerca de las finanzas de la iglesia y resolución de conflictos (Peter Steinke). Se lleno un bus completo para Viaje al Mosaico, nuestro taller móvil de reconciliación racial. Esto resultó ser una experiencia oportuna el fin de semana después de las elecciones.
Apoyo a pastores:
Once ministros recibieron credenciales y avanzamos con la ordenación de 10 pastores este mes de junio en Detroit. Estamos agradecidos por aquellos que sirven en el Comité de Procesos Ministeriales (COMS) y celebramos la culminación del viaje de los ordenados. Cris Back continúa manteniendo nuestro proceso bien organizado.
Trabajo con la transición de ocho pastores de planta. Hemos estado muy complacidos con la calidad y la pasión de los nuevos pastores que Dios ha traído a la PacNWC. Estas estaciones de búsqueda de pastores interinos/permanentes siguen siendo maravillosas oportunidades para trabajar con las iglesias.
La Asociación Ministerial guió con excelencia este año pasado como educación continua, el tema de la sexualidad humana. Y siguen organizando el mejor retiro de pastores de todo el Pacto.
Seguimos viendo un aumento en la práctica del buen autocuidado (consejería, dirección espiritual, etc.) Contratamos a Dawn Taloyo para traer un liderazgo mayor en cuanto a la salud pastoral y congregacional.
Al completar mi primer término, me siento lleno de alegría y profundo agradecimiento por estos últimos cuatro años. Estoy agradecido por la oportunidad de servirles a ustedes. Estoy agradecido por la obra de Dios entre y a través de nosotros. Estoy agradecido por el equipo de la Conferencia. Son personas hermosas y dotadas. Pero seria una falta si no tomo este momento para agradecer públicamente a mi esposa Mary y mis hijos Jordan, Erin y Caden. Han sido una enorme fuente de alegría y apoyo. Mary, con cariño y desinteresadamente ha servido a la Conferencia muy bien al ser la roca firme de nuestra familia y ser tan confiable compañera de ministerio y vida.
Gracias iglesias. Oremos fervientemente por gran fe, espíritus audaces y fruto en abundancia.  Gracias para un año fantástico y por su fiel compañerismo. Espero con gran entusiasmo y anticipación ver hacia donde Dios nos conducirá próximamente. ¡Que Dios les bendiga! 
Online 2017 Annual Report Index: